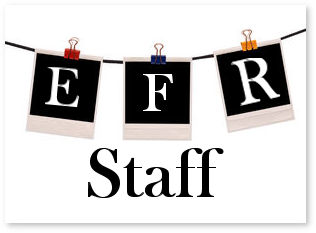 ~~~~ Administrators ~~~~

Buffy
"Hi my names Buffy. I've been doing PSP a long time and still learning new things each day! I live on a farm in Va. I'm divorced now 12 years. I have 3 kids, 6 grandkids, and 1 great granbaby. We have horses. I used to be very active in horse rescue but I'm getting to old now, lol. We just have our horses now and I raise & breed mini Dachshunds - I have 3 now, and a blood hound, and pitbull., and 1 rooster! I love art! Drawing, painting folk art, china; I love antique furniture and nic-nacs! And I like creating tags on PSP. I am an Admin and as such do a little of everything, from the day to day running of the group to organizing group activities. If you need a hand with anything, just holler!"
Louise
"My name is Louise. I am a widow for 18 years now. This is my son, Terry, and daughter, Julie, in the picture with me. My son has one daughter, Keri. She will be 18 in December. My daughter has twins, girl and boy. They will be 12 in October. I don't have any pets right now. I am retired. I went on disability 3 years ago. I worked all my life in the plastics industry in Quality Control till my plant closed in 2008. Went to college and got a degree but never got to use it. I've been making graphics around 15 years now. I started making wallpapers, then tags. I also make Posers, and backgrounds in Bryce and Terragen. I am also a Fractal Artist.
I am the copyright moderator for EFR. I help the group stay safe & copyright compliant! I also find new artists, gain new permissions for the group, and add new tubes to the Artist Permissions & FTU Tubes board!"
Kathyfrances
"Hi! My name is Kathyfrances and I am one of 4 founding members of EFR. Our group started with 4 original founding members, Bobbie & Marilyn Allen, my sister Connie (Elle') and myself. We first started at MSN and when we left there, Bobbie & Marilyn left to pursue their artistic endeavors; while Connie & I took the group into the wild .com world, lol. We tried a few hosts, before finally finding a home here on forumotion. EFR is about 12 years old, with the last 3 years being spent here at this location.
I am a wife of 33 years to the most wonderful man, mother of a 26 year old daughter, retired teacher (34 years) and an avid PSPer. I have 6 tiny furbabies (5 Chihuahuas & 1 Pomeranian). I have a lot of hobbies and interests, but PSP is my favorite!"
Marlene
"Hello, everyone! My name is Marlene. I have been married to my second husband for 22 years. We have two daughters, Miranda 21, and Amanda, 19. I am 56 years old and have always been a 'stay at home mom'. I have been living in Nashville, Tennessee since moving from my home state of Florida 35 years ago. I am an avid reader and an avid PSP'er! I was introduced to PSP about 15 years ago and I have been at it ever since! As an administrator, I oversee the day to day running of the group, help run & organize group activities, and help out anywhere needed (like the PSP Challenge board)!"
~~~~ Creative Editor ~~~~

Sly (Sylvia)
"Hi, I am Sly! I have been PSPing for about 9 years. I enjoy making forum skins, posers, and actually anything with PSP! I have three children, 10 grandchildren, and 1 great-grandchild on the way. I have a Miniature Schnauzer named Snickers and a Manx cat named Symba. I have been a member of EFR since March 2008 and have worn many hats and I am excited about helping out as creative editor (helping with forum skins and wherever needed). EFR is the greatest GROUP on the web!!!"
Not only does Sly do the million and one things required to keep the forum looking and running well, she also credits the Daily Votes - thanks to her you gain 100 gems every time you vote!
~~~~ EFR Moderators ~~~~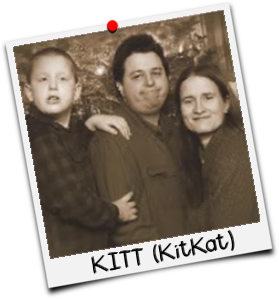 Hi! I am KITT (KitKat). I live in PA, married 13 years with one son and 4 Chihuahuas. I work at WaWa and have been tagging for 5 years. I post Tut Challenges, credit gems & run the monthly Bingo games!
.·:*¨¨*:·. Maren .·:*¨¨*:·. 
"Hi, I'm Maren.  I've been tagging for 12 years and still love it.  I live in western Washington state with my partner Russ.  I have two married sons, each with 2 children.  I'm a retired software engineer so I've been working with and owned computers for over 30 years, but things have continued to change so much since I was laid off 14 years ago.  I'd be lost without my computer and internet!  and my groups, too."
Maren has graciously volunteered to record gems for Check Ins! This is a huge job she has undertaken and we are enormously grateful for her hard work and commitment! Maren also posts the monthly Cluster Frame & Theme PSP Challenges each month, and runs the Super Siggy Swap boards! We are grateful for her help!
Shel
Shel has very kindly agreed to run the Tag Shack! The Tag Shack is a great place to spend gems on special tags. Shel encourages taggers to offer tags, posts the gems, and keep the place neat & tidy. 
"I started playing around in PSP/Animation way, way back in 2004 and used to love everything involved with it. I've had a 10 year break from it though, due to raising a young family again. I've recently started out and have noticed every thing is so different to how it used to be! I'm back to making tags and animations and i am really enjoying it again   My favourite ones i like to make are animated ones! I'm from Great Yarmouth, Norfolk UK and live 2 minutes away from the beach.   I have 5 children ranging all ages and spend quite a bit of time with the 2 youngest I was blessed with at my old age. :)"
Deana
Deana has offered to help us out every month by posting Template, Word Art, Animation, Texture/Background, & Mask Challenges! Deana also writes tuts and teaches how to use PSP. She is a valuable resource for those interested in learning PSP! Be sure to check out The Learning Zone boards - classes start in January 2018!
~~~~ EFR Staff ~~~~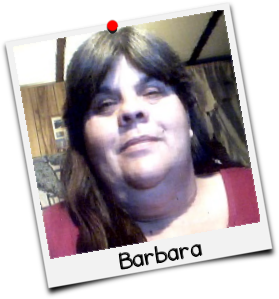 Barbara
"Hello my name is Barbara. I am from North Carolina. I am 51 years old. I am a mother of one beautiful daughter & grandma of two handsome grandsons. I also have 6 cats. I love doing PSP, crossword puzzles, listening to music, love watching good movies, love spending time with my daughter and grandsons and my parents. I run 'Barbara's Recipe Board' and I am always looking for new recipes!"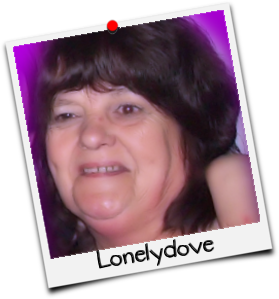 Lonelydove
"Hi, my name is Carol but use the nickname Lonelydove. I was born in the UK, Manchester, but now live in the west of Ireland. Been here since 1973 and love it here. I have 6 grown up children and 9 grandchildren! I love playing in PSP. Gardening. Knitting. Crafts. That is when I have the time, lol. I mind 2 of my grandsons 2 or 3 times a week! I post ScrapKit Challenges and have a board where I post translated Tuts for the group!"
Linda
Linda is an expert tagger and colors digi stamps. You will find some of her beautiful work at Sherri Baldy's site - she colors & recolors tubes for SB! Linda has graciously offered to post a daily bible verse on the General Chat board - check it out!

TexasLadee
Jacqui, or you may know her as TexasLadee, has graciously offered to post Birthday Wishes each month for our members! We are delighted and so grateful for her helping hands. Each member is special to us, and remembering you on your birthday is one way of letting you know!

·:*¨¨*:·. Ellie .·:*¨¨*:·.
Ellie works tirelessly behind the scenes counting votes and helping out as needed. She can be counted on to pitch in and lend a helping hand at a moments notice! Because of her, you get your gems on time each month.

Sylvia (kandigirl)
Sylvia is a Moderator, head mod for BAMA Staff. She is also the liaison for Bobbie & Marilyn Allen & EFR! Sylvia adds new tubes to the BAMA tube collection, and posts a Grab Bag Challenge on the Resident Artist Challenge board each month, as well as crediting gems!
"Hi my name is Sylvia, I help Bobbie and Marilyn and of course elsewhere may help may be needed. I live on Vancouver Island on the West Coast of Canada, I have 4 grown children and 2 adult grandchildren. I enjoy long walks on the beach which is only 10 minutes from my house in any direction."

Liz
Liz helps with Bobbie & Marilyn's art boards, posts new art, and helps out on the resident artist boards as needed. Liz also posts a themed BAMA Snag Challenge each month on the Resident Artist Challenge board!
"A little about me... I have lived in  Memphis for almost all my life.. I lived in West Virginia and Key West,  Florida before we finally moved back to Memphis. I love trying to make tags. My motto is "if you don't try - you don't learn." We do not have children or pets. After teaching for 20 and 1/2 years I walked out of the building where I work on Dec. 20, 2000 and never went back.  I really like this forum. Liz"


Sarah has generously offered to help with posting gems! Each month she credits your account with Voting gems and helps out as needed with checking in and other gems! Sarah is also an expert when it comes to computer software and can help troubleshoot any problems our members may have with the Internet, programs, and the forum!
Shoozie
Shoozie also helps with Bobbie & Marilyn's art boards, posts new art, and helps out on the resident artist boards as needed! Shoozie also posts the QOTD once a week on the General Chat board and makes tags for the winners!
"Ok ~ a little about me  ~  don't really like talking about myself, but here goes ~
I'm a "mom" to 4 of the sweetest kitties in the world.  They are all a "rescue" of one sort or another.  They range in ages from 2 yrs to 16 years.  I'm a "total sucker" for anything with 4 legs and fur. I'm married to a wonderful guy who has been "putting up with me" for 35 years and deserves a "Gold Medal" for that! Love my PSP, Machine Embroidery, Sewing  and Crocheting"

Eve (HapyFaceEve)
Eve has graciously volunteered to monitor the Snag Request board! Thanks to her you will be able to request having your name added to some of your favorite snags! Eve also helps us monitor for BAMA copyright compliance.

"I live in Canada, the beautiful province of Nova Scotia. I am a stay at home wife and retired and married to a wonderful guy.  I have two grown daughters and 4 grandchildren. I love psp and make tags when time permits. and I look forward to getting involved with what the group has to offer. I love to read, take long walks, play tennis and ski."
_________________________________________

Bobbie & Marilyn Allen
These two amazing artists have made EFR their home on the web, showcasing their art here for members to use freely! Both of the incredible ladies are founding members of EFR and have been a guiding hand and major influence on the group since its inception. We are honored to have them home again and to have a front row seat to their creativity! /center]

You can their newest art right here at EFR, on the 'What's New?' thread on General Chat or in their tube library. Links to their boards are on the left hand side of the forum (scroll down till you see Resident Artists).  You can also chat with the artists every Thursday Night at 6:00 PM PT.

We are honored to have these generous, caring, & talented ladies with us!

Kathyfrances

Admin





Hi you beautiful ladies!
Glad to meet you all!

Linda53

Valued Member






---
Permissions in this forum:
You
cannot
reply to topics in this forum